Description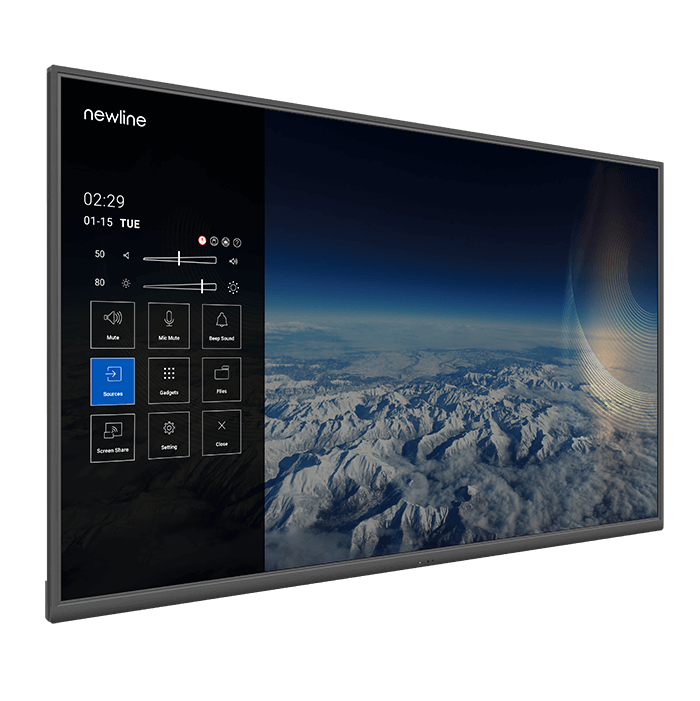 Commercial Grade Displays
Streamline your meetings and bring presentations to life on an innovative non-touch display with vivid 4K resolution designed for large-scale collaboration.

Created with your team's needs in mind, the NT Series brings you all the collaborative tools a TV screen lacks so you can work easily, effectively & hassle-free. Streamline your meetings, lessons and presentations with a display that focuses on just the tools you need to succeed.

Smart multifunction remote control

Wireless air mouse with gyro sensor. Navigation buttons. QWERTY Keyboard. One button to put the screen to sleep. Having full control of your NT has never been easier.

Embedded microphone for calls and voice control

The NT Series comes with a built-in microphone array for conferencing calls and voice control.

With echo cancellation, noise reduction, and reverb removal, be understood with a crisp, clear audio experience.

Open and manage files directly on the display

Easily access your documents from the cloud directly on the display. Manage files and pull them up on the large screen, even if you forgot to bring your personal device or flash drive with you.

Wireless screen sharing made simple

Wirelessly cast your screen onto the NT Series, cable-free. newline Cast is built into the display to make it easier than ever to connect and share any content from your screen.
Tech Specs
| | NT SERIES | NT SERIES |
| --- | --- | --- |
| Model | TT-8519NT | TT-9819NT |
| Size | 85" | 98" |
| Display Area | 1872 x 1053 mm | 2159 x 1214 mm |
| Weight | 48.5 ± 2kg | 83 ± 2kg |
| Resolution | 3840 x 2160 pixels | 3840 x 2160 pixels |
| Touch Technology | Non-Touch | Non-Touch |
| Touch Points | 20 Point | 20 Point |
| Viewing Angle | 178° | 178° |
| Embedded Operating System | Android 8.0 | Android 8.0 |
| RAM | 3GB | 3GB |
| ROM | 16GB | 16GB |
| CPU | Quad-core V810 (A73*2 + A53*2) | Quad-core V810 (A73*2 + A53*2) |
Downloads
Product Brochure:
Newline NT Series